Amigos Days
Fridays & Saturdays, April
12, 13, 19, 20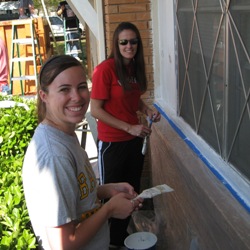 Come one or more days. Meet at the church at 8:00 am to ride the bus to the worksite. Return about 4:00 pm.
Help make minor repairs as well as scrape and paint the outside of our homeowner's house in southeast Dallas. Ms. Deneice lives alone and is disabled.
On Fridays all volunteers are to bring their lunch. The church will provide water and cold drinks.
On Saturdays lunch will be at Pleasant Mound/Urban Park UMC.
This is a great project for Sunday School groups, Group Life or individuals who want to help someone be able to stay in their own home.
Sign up at the Shawver Welcome Center Desk on Sundays or contact , 972.235.8385.