Christmas Concert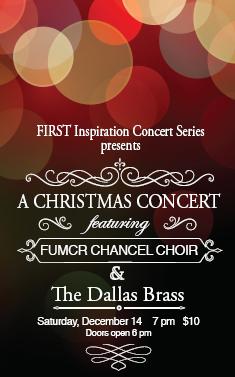 Featuring Dallas Brass and the FUMCR Chancel Choir
Sat, Dec 14, 7 pm, Sanctuary
The Dallas Brass performed during the first Christmas season in our new sanctuary seven years ago. They are returning this Christmas to accompany our Chancel Choir in the popular John Rutter arrangement of Gloria, as well as the familiar songs of Christmas in The Many Moods of Christmas.
The second half of the concert will feature the always entertaining Dallas Brass, with their comical delivery and brilliant musicianship.
Tickets are $10 and will be available at the door.
All tickets purchased online by Sunday, December 8, will be mailed. For purchases after December 8, tickets will be available at will call on the evening of the concert.