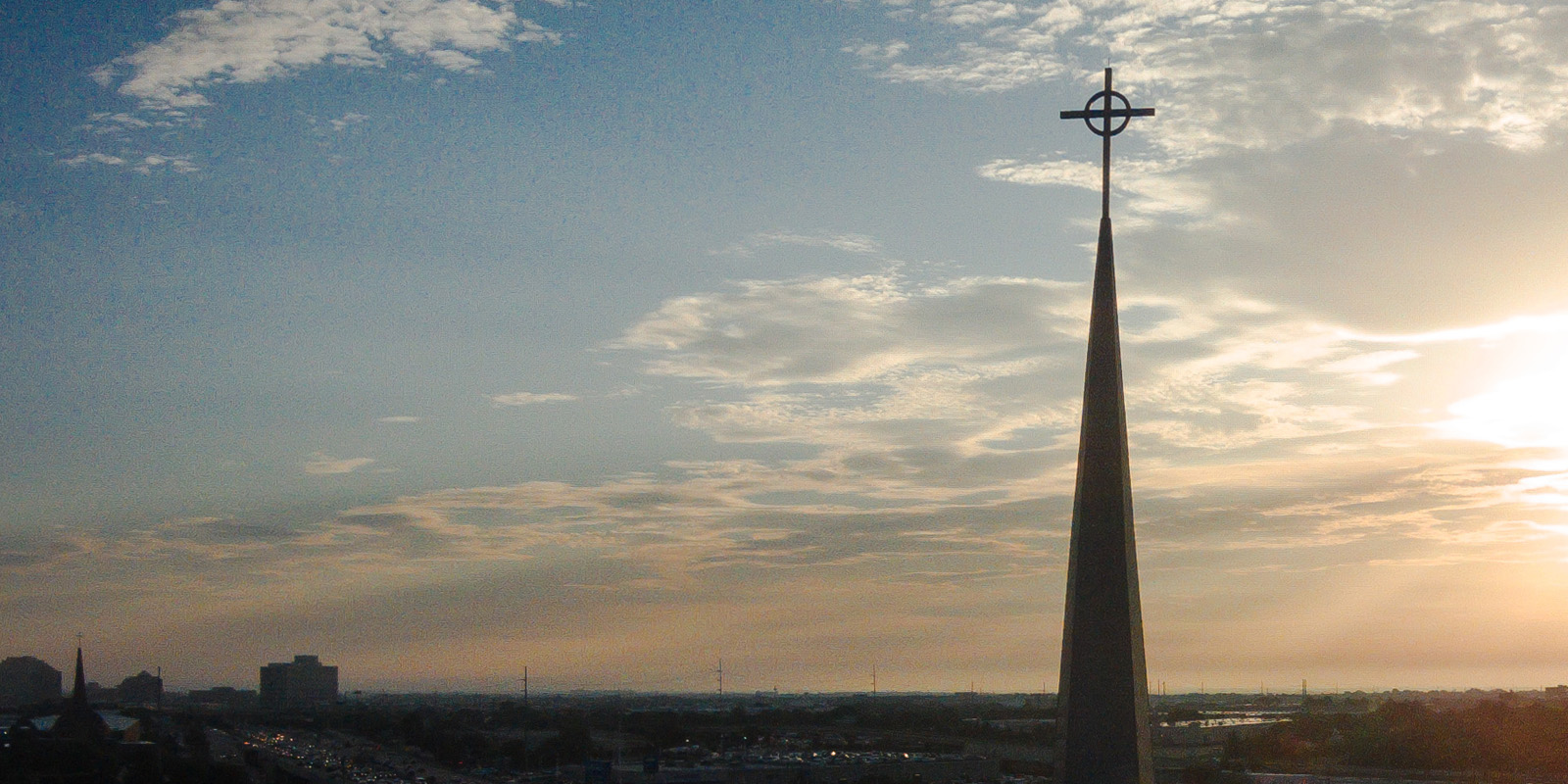 For where your heart is, there your treasure will be also. - Matthew 6:21
The Annual Campaign
2017 Operating Budget for First United Methodist Church Richardson
Every Pledge Matters ... for the growth of our ministries in 2017 ... for the operational costs of facilities … for the salaries of clergy and staff … for carrying out the mission of FUMCR to WELCOME, GROW, and SERVE our congregation, our community and the world!
New pledges are welcome throughout the year. PLEDGE ONLINE
A message from our senior pastor:
First United Methodist Church Richardson is a church with a heart for ministry. ALL of our prayers, ALL of our participation in the life of the church, ALL of our financial gifts, and ALL of our time and service toward the church are directed in some form or fashion to helping make ministry possible. When people give selflessly of their time and resources, incredible blessings unfold. We learn the joy of giving – giving out of gratitude for all God has done for us, and giving because we know there are others in need.
We ask you to pray about your giving and involvement in the life of the church in 2017. Pledges toward our Annual Campaign help fund our Operating Ministries
Budget. These gifts underwrite our amazing ministries, including all of our ministries for children, youth, and adults, our worship and music, our mission outreach, and much more. As we move into our new facilities in 2017 it will be more important than ever before to have the financial participation of every single member.
Please pray about your upcoming commitment to our Annual Campaign. Be a part of the legacy of this great church, a legacy of making disciples, a legacy of mission outreach, a great legacy of faith and love.
In Christ,
Clayton Oliphint, Senior Pastor
Read More from some Members of FUMCR:
Alex Alt, Finance Committee Chair

---

What an amazing time it is in the life of First United Methodist Richardson!

As the Chair of the Finance Committee, I want to encourage every single member of the Church to make a pledge to the 2017 annual operating budget. The funds pledged to the operating budget are the lifeblood of FUMCR, supporting the day-to-day operations of the Church, as well as it's numerous impactful ministry programs such as Mission Outreach, Music, Children, Senior Adult and Leadership Development. There has never been a more important time to support the operating budget of FUMCR as we look to bring our amazing new facilities to life to serve each other and our community.

Please join me in making a pledge during the upcoming 2017 stewardship campaign, and thank you so much for supporting FUMCR through your prayers, your presence, your gifts, your service and your witness!

Rich Rindfuss, access pastor

---

God designed us for teams. 1 Corinthians 12 :7 says, "To each is given the manifestation of the Spirit for the common good." The chapter goes on to explain how, by God's design, we need each other. God's Spirit empowers all of us but in uniquely different ways. To be the church God wants us to be and to accomplish the work God dreams we will accomplish, we need one another.

When we function as a team amazing things happen. We do more than we thought possible, because we share the work. We do better things than we imagined, because we build off each others' dreams. And we do things we never imagined, because we discover that our team has abilities none of us have alone.

Similarly, when we work financially as a team, our church performs at its spiritual best. When we all give,
we share a common experience of looking to interests beyond our own (Philippians 2 :4). When we all give, we collectively focus on the abundance God has given (John 10 :1 0 ). And when we all individually take the steps of faith necessary to give, we become a community capable of things only God can imagine (Ephesians 3: 20-21).

Our new facilities will come fully on-line in 2017, and I'm sure we only envision some of the new and expanded ministries into which God will lead us. The renovated Bartula Family Life Center will facilitate new and expanded youth and sports ministries. The Orr Music Suite has already begun facilitating new and expanded music and worship ministries. The Worship and Arts Center will facilitate a host of new and expanded ministries including musical and stage performances, lectures, conferences, and Access, an innovative addition to our church's worship services that will connect in new ways with new people. The Coleman Family Hall and café will facilitate new and expanded small- to large-group ministries including informal studies, gatherings with meals, exhibitions highlighting ministries, and more. And new and expanded office space will support our staff as they guide
these ministries.

I ask for your financial teamwork. Please pray about the proper amount and then commit your financial support to FUMCR. When everyone gives, it unites us as a congregation, strengthens our faith, and creates an environment where God can do amazing things!

Karen & Wade Varner

---

Since September we, along with another couple, have had the privilege of starting a new Sunday School class for parents of the current Confirmation students. We have received a tremendous amount of support and encouragement from the staff as well as the parents who have been attending our class. It has been a blessing to serve the Mission of FUMCR by welcoming members, as well as guests, to our class, growing people in their (including our own) faith through a small group setting and serving other parents through connecting one another. As members of FUMCR, it is a joy to be able to continue to support all ministries of the church through our annual stewardship contributions.

Lydia Chen

---

FUMCR's youth ministry and The Journey Youth Choir programs shaped my teenage years and continue to impact my spiritual life. Youth group was my home, a place where I continuously felt welcome and a place where I met people who inspired me, challenged my ideas, and became my closest friends. FUMCR's youth group is such an open and welcoming place, and so many teenagers, myself included, have benefited from having this group to rely on and feel comfortable with. The Journey Youth Choir was my home within a home. I have always loved making music, but I really discovered my love for worshiping through song with this youth choir. Being able to create music with a bunch of other teenagers who just love to sing and then getting to share that music with others is powerful. Some of the most moving experiences I have had have been with The Journey Youth Choir on choir tours during the summer performing at places like women's shelters, local churches, and schools. The Journey Youth Choir holds an important place in my heart because of its ability to touch people and bring joy to our church and beyond.

Steve & Vickie Tesmer

---

FUMC Richardson has been a key part of our lives for 30 years. Its staff and members have been there with us through the ups and downs of life, supporting us with their prayers and caring outreach. And in return, giving us many opportunities to reach out and serve others by "serving people with Christ." Our daughter, Dana, was raised in the church, from baptism, through confirmation and the youth group. The time we spent as youth counselors introduced us to the contemporary style of worship and it stuck. To help "grow people in Christ," we believe this style of worship is a key way to attract and retain new members, especially from the younger generations. It meets them and us where we are – it's lively, informal, touches our soul and helps us experience the love of Christ. And it helps support the future viability of the church by engaging younger members and those who have not grown up in a church. But this can't happen without our current commitment to sustain the church's operations. We hope you'll join us in financially supporting the mission of FUMCR with your 2017 pledge commitment.

Bill Sproull

---

It's a huge blessing for my wife and me to see our twins, Maggie & Ryan, participate in the Journey Youth Choir, and a blessing to them as they grow in Christ through song and fellowship. They have made new friends in the Choir, and our whole family greatly enjoyed participating in the Choir's trip to DisneyWorld. Their performances are inspiration to our whole FUMCR family. Maggie & Ryan are also blessed by the wonderful youth programming at our Church, which helps them explore their Christianity and relationship with God and others.

Martha Aldridge

---

Gene and I joined First Methodist on Beltline Road in 1961, shortly after we moved to Richardson. We both loved music, so we had already joined the choir. Ida Kaufman was director and of course, Bob Middlebrook was our pastor. The sanctuary was still in the old fellowship Hall, so the choir sang from the stage. Our church has come a long way since those days, and Gene passed away in 2012. However, I still love choir as much as ever, and marvel at how it has grown and improved over the years. Mike and Mary are doing a fantastic job! I love this church and want to do my part.

Chuck & Joni Mulkey

---

Of the ministries in which we have either been directly involved or with which we have had personal experiences, the ones that have meant the most to our family are the prayer blanket and caring ministries. The prayer blankets have provided much comfort to friends and family members of ours, and to me especially as I fought (and won!) my fight with breast cancer this past year. The prayer blanket provided me a constant, tangible representation of the love and hope offered through the prayers of others and was a powerful source of emotional strength for me. During my surgeries and treatments last year, the church was instrumental in helping me feel that deeper connection with Christ and the church , as they continued to reach out to me both before and after surgery and treatments, to pray with me, or to provide their comfort and support. We have personally witnessed the true spirit of Christ through the actions taken by these ministries and the people involved with them.

Tina & Greg Graves

---

Small groups are the key to our connection and involvement in the ministries of FUMCR. We met in one of the early Disciple Bible Study classes, and we were married a little over a year later. After we married, we joined the Young Couples Class, now the Explorers Class. The people in this class, along with the self-taught format has grown our faith and extended our family. We have rejoiced with classmates when children have been born and have seen some of those children marry. We have prayed for and supported classmates through illnesses and
tragedies, and have mourned and comforted each other on the loss of family members and fellow Explorers. Individually, Greg has deepened his faith and served the church through the (not-so-small) group of the Chancel Choir. He is also a long-time member of the Mission Work Area and has been able to serve on various mission projects and trips locally, nationally, and internationally. Tina is involved in United Methodist Women and is a member of Hannah Circle. UMW has provided her with many opportunities to serve and deepen her faith. It is the individual people that we have gotten to know, appreciate, and love through our involvement in various small groups that have wrapped us in the fabric of FUMCR.

Ross & Rebekah Gilbert

---

Group Life is a community that we have developed through relationships at church where we truly do life together. These people are individuals that we are held accountable to, share our biggest joys, and deepest heartaches. Group life embodies the mission of our church to welcome people for Christ, grow people in Christ, and serve people with Christ which we believe honors key biblical principals of Christianity. Our hope is that God is glorified in the fellowship, conversations, and prayers of our group life community. We are ultimately bound as on body in Christ working to better his Kingdom and reminded by the importance of coming together in Matthew 18:20, where Jesus says, For where two or three gather together in My name, I am with them.

Andy & Marie Moore & Ryan

Andy & Marie Moore & Ryan

---

Since joining FUMCR in 2006, our family has been involved in many areas of service within the church and in the community. From being served by the GEMS program for Ryan, to our service participating in Habitat for Humanity, primary teaching role for the Trinity Class, serving as a receptionist at Network for Community Ministries, mentoring at Mark Twain Elementary, serving as substitute ushers, participating in the Pancake Flip which supports such organizations as H.E.R.O.E.S., YMCA, Network, Habitat, we have found our faith exercised and expanded through service and being served. Most of our involvement has been funneled through our membership in the Trinity Sunday School class and our commitment to the Access worship community. These opportunities to contribute to our community while being richly fed by our fellowship with others make our search for meaning and purpose in restoring the Kingdom of God a reality. Our participation in Leadership First, UMYF's Really Living's "adoption" and inclusion of Ryan, and such classes as Justin Tull's "Making Sense of the Bible" and Lisa Hancock and Jason Berman's "Enneagram" are recent examples of how our Church serves us. We are incredibly grateful for FUMCR.

Larry Cottam

---

Melanie and I strongly support FUMCR because for 47 years this church has been such a blessing to our family. It has provided a focal point for Christian living, a continuum of highly dedicated trusted leadership, and a great vision for the future. We have actively served in many capacities. A few areas of dedication were: being UMYF counselors for 7 years, teaching both elementary and adult Sunday school classes, being active in UMW, Methodist Men and the Handyman program, holding leadership positions in Pathfinders SS Class and on Administrative Board, and serving as Lay Leader of the church. Our three girls were surrounded by loving teachers, youth leaders, and supported in their marriages. Truly the church provided us the opportunity to be involved, to reach beyond ourselves, to accept our responsibility as stewards of God's creation, and "to love our neighbors as ourselves," by serving local needs and missionary outreach into the wider world. For us, it is essential to financially support FUMCR because, as with all our homes, the physical buildings of the church need upkeep, the wonderful ministers and staff need decent salaries, and supplies and transportation have to be covered. It is also a great joy to look into the bright eyed kaleidoscope of precious children on the altar steps each Sunday morning during children's time. They are a real treasure and another strong reason we support our church – their future.

Jamie & Greg Lyons

---

Finding our church home at FUMCR has been a blessing on many levels. We have two children (3 & 5) so the children's ministry has been a focal point of our church experience. It has been wonderful to watch our kids be exposed to faith and experience God's grace while participating in many different types of activities. The community has embraced and shown love to our family. Everyone who leads and volunteers with the children's ministry has a passion for teaching children about God and how to live like Christ would want. We love our many opportunities to be at church. One night there was a basketball game in the church gym. Our family was all in attendance. My daughter, Grace, said something that personifies how we feel about FUMCR..." I always love coming up to the church. It feels like a second home."