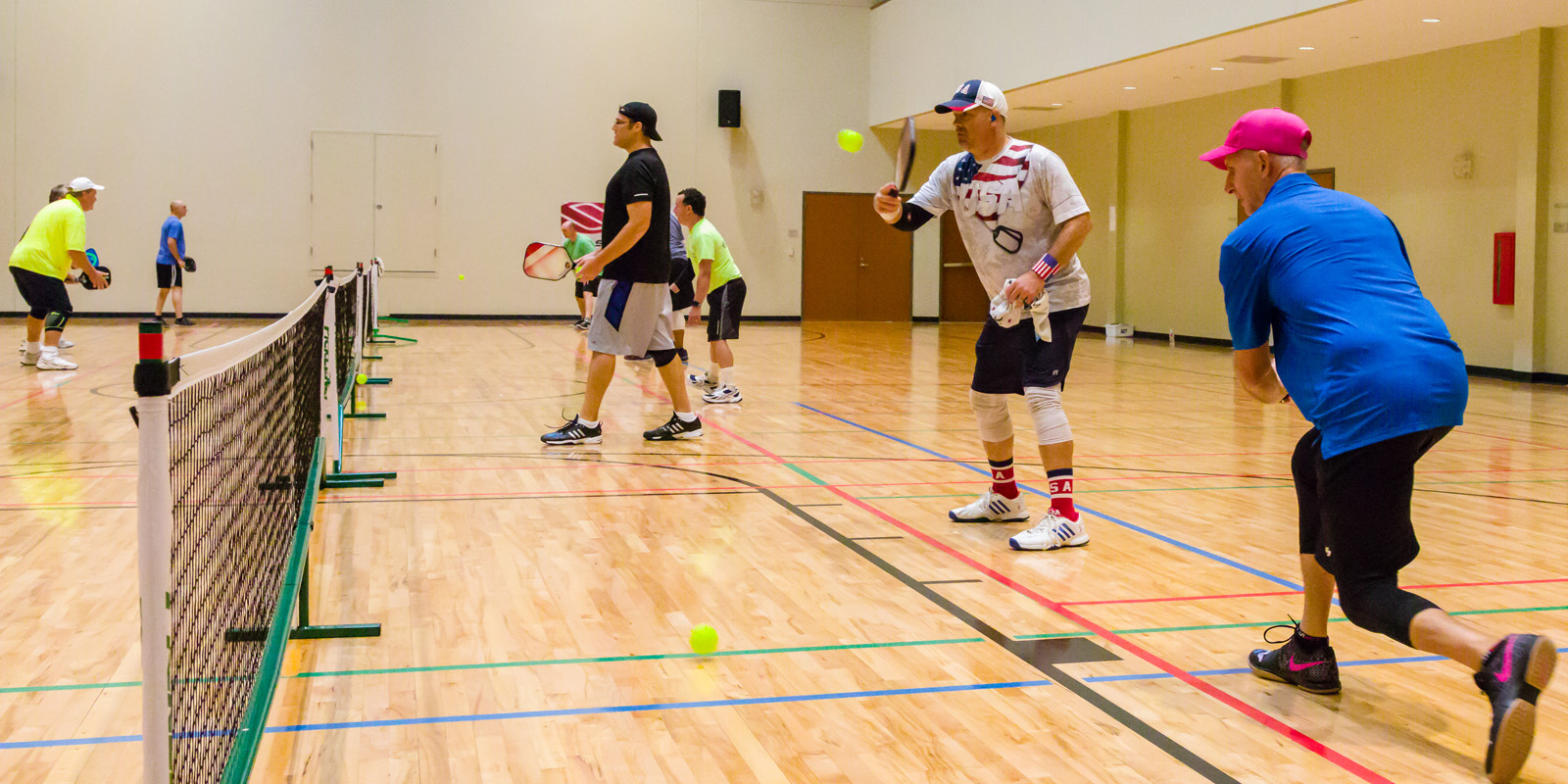 For we are what he has made us, created in Christ Jesus for good works, which God prepared beforehand to be our way of life. - Ephesians 2:10
Fitness, Sports, Recreation & Health
Family Life Ministry programs are open to anyone: church members and guests as well as community members. With a wide variety of options, we have something for everyone. So check out the listings here on the website, then bring a friend and make more when you get here. It's a great way to connect with each other and with the church while you stay physically and spiritually fit.
Fitness Center
Mon-Fri, 6:30 am - 8 pm • Sat, 8 am - 8 pm • Closed Sundays and when FUMCR is closed
Ages 18+ must have signed waiver on file and pay $60 yearly dues by cash or check.
Ages 14-17 must have signed waiver and must be accompanied by an adult in the Fitness Studio at all times. No charge for ages 14-17. No unaccompanied minors. No minors without signed waiver.

Fitness Studio members will receive an electronic key for the Bartula Family Life Center southwest exit door and Fitness Studio.
Instructed classes such as Yoga will have priority. Check class schedules below.

Waivers and electronic keys available from the Family Life Ministry office and Student Ministry office reception desk.
Senior Adult Fitness
Fit For Life • Tue & Thur, 9-10 am, Bartula Family Life Center Gym
An opportunity for senior adults to get together twice a week for fun, fellowship, and exercise. This dynamic class is designed to meet the specific needs of senior adults wanting to maintain or improve strength, flexibility and cardiovascular health. The class and instructors are non-threatening and flexible. No matter what your health and fitness level may be there is a way to participate and reap the rewards of fitness. Come join us and stay Fit For Life!
Yoga Stretch • Tue & Thur, 10-11 am, Bartula Family Life Center Gym
A variety of stretching and breathing exercises. The Yoga poses used are adapted for senior adults and are done either standing or seated. There is no need to bring a yoga mat.
Registration & Fee
No advance registration is requested. There is no set fee for classes; however, donations of $1-2 per class are encouraged. Join us for one or both classes, one or two days a week, whatever fits your needs.
Yoga
Mondays, 9:30 am, via Zoom
Join Jessie King for a slow class designed to focus on strength, mobility, balance, and laughter! We always laugh! Props aren't required, but they are highly encouraged as they add a lot to the experience of each session. We typically use a block or two, resistance bands, and therapy balls (think tennis or racquetballs).
This class is accessible for anyone who is able to comfortably get down on the floor. It may contain gentle stretching, mindful mobility, self-massage, restorative yoga, somatic practices, and meditation based on students' needs. This class is not a vinyasa type, fast-paced class.
Cost: Donation - suggested $10, but no one is turned away
Contact instructor Jessie King by email () or text message (972.383.9683) for information, release form, payment details, and zoom link, or visit ariseyogawellness.com/contact/schedule-your-next-class/
Recommended for all yoga sessions: yoga mat, yoga block, yoga strap, comfortable, loose-fitting clothes, easily removable shoes. Beginner friendly. All classes taught by certified yoga instructor.
Family Life Ministry This Week