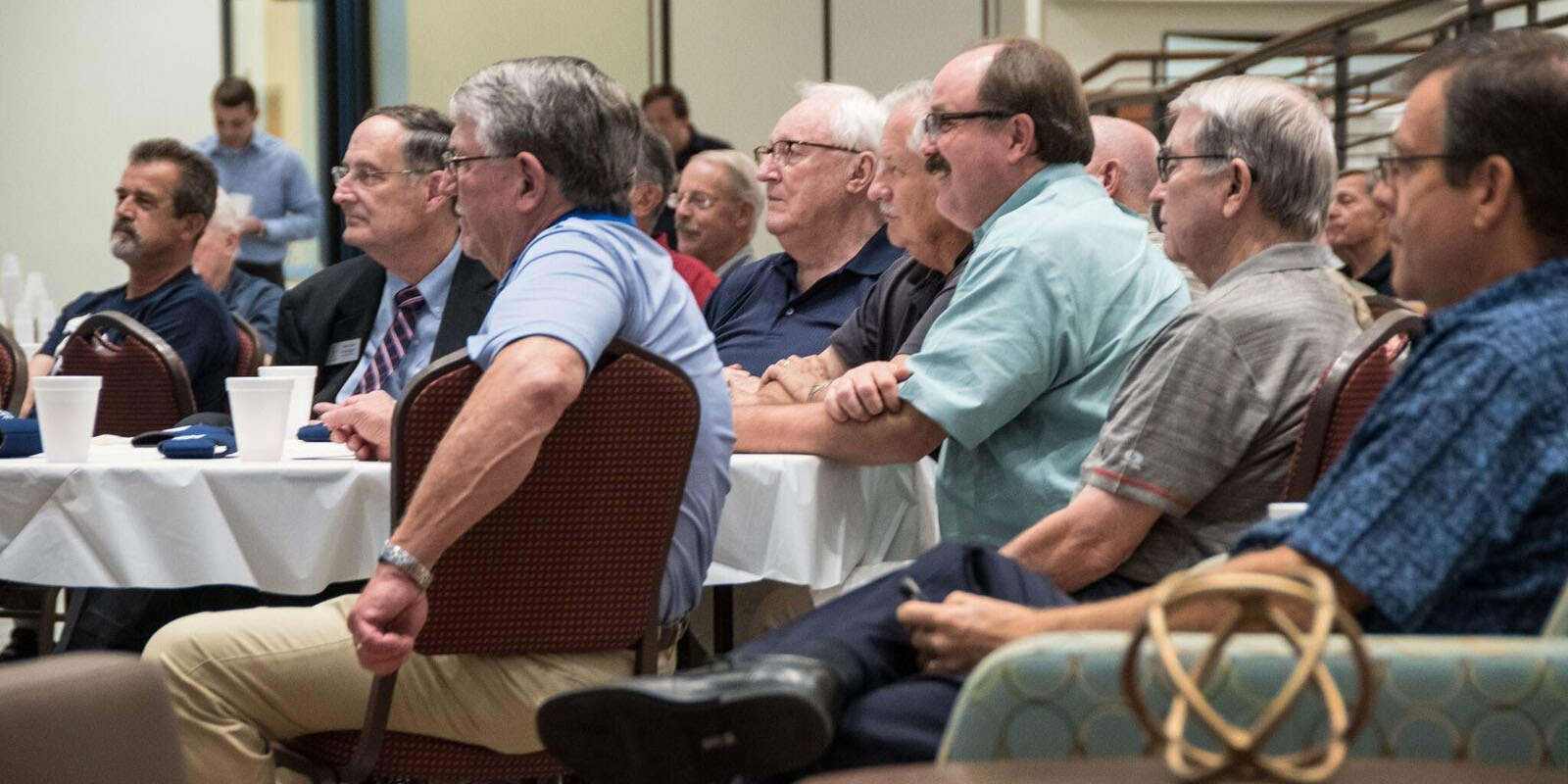 ... for God is greater than our hearts, and he knows everything. - 1 John 3:20
Our Mission
Through study, prayer, service, and fellowship we are making disciples by connecting men with God, our church, our community and each other. God works for good in all things, and Men of Faith wants to help all men become greater than themselves by joining in God's work.
Men of Faith hopes that all men who attend FUMCR will consider themselves part of this ministry and feel welcome in all of the opportunities we offer.
Contact us:
Men of Faith Connections
Dinner and an inspirational program once a month on Thursday evening, Sept - Nov and Jan - May.
Men of FUMCR gather to connect with each other, the church, and their faith.
All men, high school age and up, are invited. No reservation needed.
Sept 6, Oct 11, Nov 1 • 6-8 pm • Coleman Family Hall
Darin Kinder, founder of Valiant Ministries and former US Secret Service Agent. Darin will educate, train and equip us to be better prepared for the spiritual warfare that each one of us face every day.
Sept 6 - Spiritual Warfare - Define it, identify it, and elevate our spiritual situational awareness
Oct 11 - Equipping the Saints Part I: Examine the Enemy's strategies and tactics
Nov 1 - Equipping the Saints Part II: Examine the spiritual power and weapons at our disposal
Bible Studies - details at Group Finder
Monday, Tuesday, and Friday mornings, weekly - come anytime!
Monday evenings, Sept 10 - Dec 3
Thursday evening, Sept 20 - Nov 29
Men's Conference & Retreat - Jan 12-13, 2019
Join us at the Prothro Center at Lake Texoma for "Standing Firm in the Faith" with Darin Kinder, 9/11 ground zero survivor, US Secret Service agent, and founder of Valiant Ministries.
Saturday, Jan 12
8-9 am • Coffee and continental breakfast
9 am - 12 noon • Morning sessions (2) with breaks
12-1 pm • Lunch
1-4 pm • Afternoon sessions (2) with breaks
4- 4:30 pm • Wrap up
6-7 pm • Dinner
7 pm • Bonfire, live music, games, fellowship

Sunday, Jan 13
8-9 am • Breakfast
9-9:45 am • Worship service
9:45 am • Benediction and dismissal
Cost: $99, which includes one night in a double-occupancy room, meals, snacks, and session materials. Scholarships are available. Please contact Jonathan Bryant (JB) for more information.
Missions
Bob Moxham Men of Faith Scholarship given annually to graduating high school senior boy(s).
Richardson Area Interfaith Habitat for Humanity - Promote and recruit volunteers for the Spring and Fall builds.
Kairos Prison Ministry - Promote and recruit volunteers to support the prison ministry.
New Friends New Life - Provide support for the New Friends New Life Men's Advocacy Group by providing positive male role models for children during monthly programs.
SPAN (Single Parent Action Network) - Provide support through preparation and serving of meals at occasional monthly meetings during the year.
Men's Ministry This Week
Follow Us on Facebook