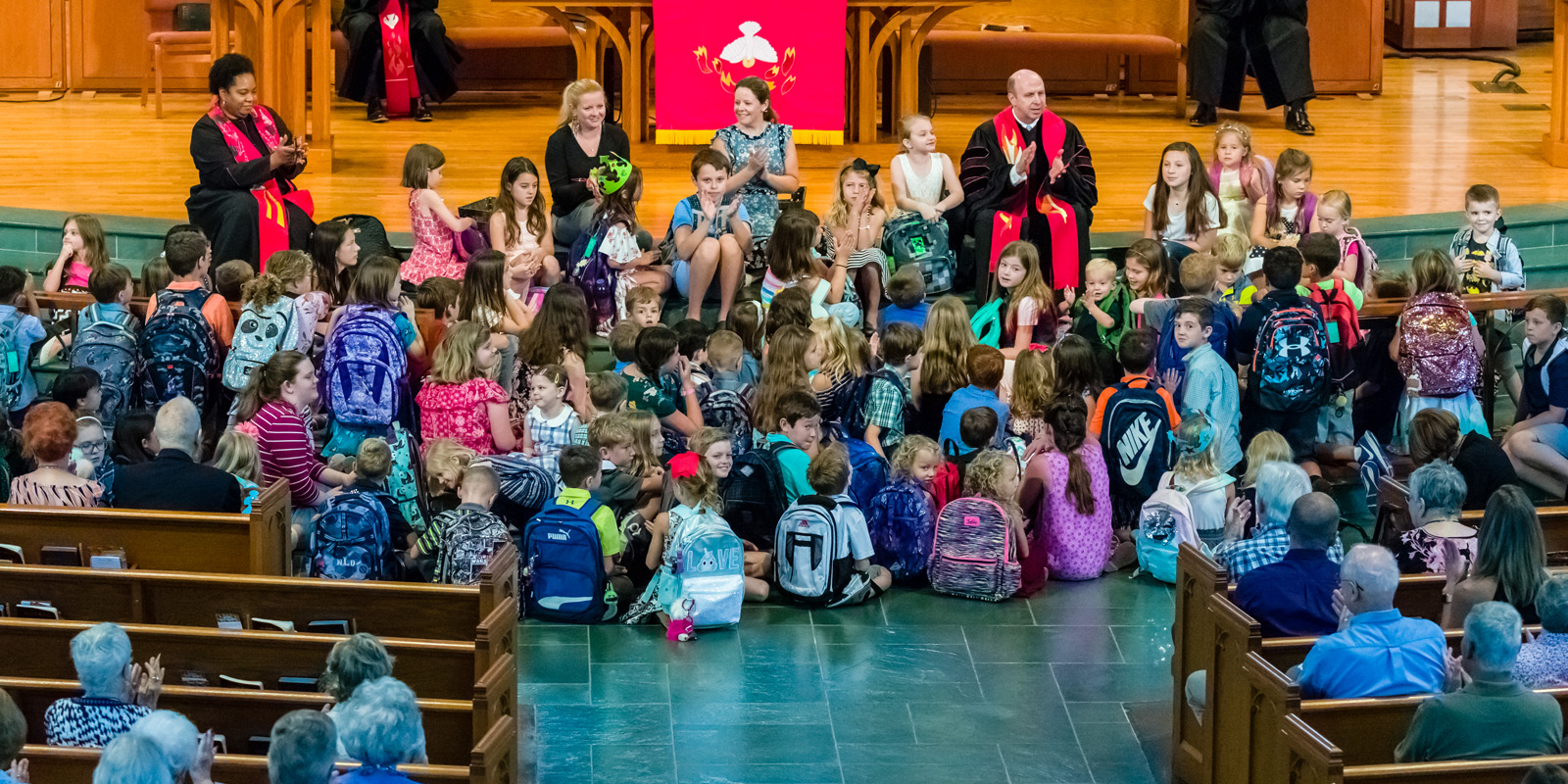 Sunday Mornings for Children
Please join us online for worship with your family and subscribe to Children's Ministry monthly e-news. We look forward to resuming our usual programs as soon as possible!
---
Children of all ages are welcome in our worship services.
Activity bags are available at the doors to the sanctuary. Children's Time is part of each service and invites children down front for a special message from our Director of Children's Ministry.
Nursery and Sunday School are offered during each worship hour.
Room Assignments 2019-20 Campus Map
Nursery (Birth - 3 years)
A professionally staffed nursery is available for infants through young 3-year-olds, from 8:30 - 12 noon each Sunday.
Children do not move out of nursery classes during the school year, but remain until move-up Sunday in June when they are already 3 or turning 3 on or before September 1.
Sunday School (3 years - 6th grade)
Children's Sunday school classes are offered throughout Sunday morning.
8:45 For ages PreK-3 - PreK-5
9:45 For ages PreK-3 - 6th grade
11:00 For ages PreK-3 - 1st grade
PreK-3 - 1st Grade Sunday School
Each class focuses on one Bible story per month and focuses on a different part of the story each week. Each week includes new, fun activities, crafts, and Sacred Circle time. These classes all meet downstairs with separate classrooms for each age/grade.
Teachers are needed each week! All curriculum is sent in advance to review and provided in the classroom with all necessary materials on the day of the class.
2nd - 6th Grade Sunday School
The rotation model provides us with the opportunity to dive deeper into one topic for a whole month through different activities - crafts, games, cooking, science and video/discussion. All Sunday School participants meet in one room for a discussion/introduction time led by a Children's Ministry Team member. Then, each grade is sent to their activity/room for that day. These classes meet upstairs.
Teachers are needed each week! All curriculum is sent in advance to review and provided in the classroom with all necessary materials on the day of the class.
Teachers are Needed!
Sunday school teachers are the most important partners in ministry for helping to raise our children in the church. It takes 35 volunteers to be fully staffed each week. Please consider signing up for one or two weeks each month, or for a full month each semester, or for more! Just use the buttons above to volunteer with your preferred age group. You will make a difference in the life and faith of our children.
Have questions? Contact Natalie Nenovich (nnenovich@fumcr.com, 972.996.0121) for more details or to volunteer.
6th Grade School Year
Our CONFIRMATION program runs from September through May and culminates in a special service of joining.
Sunday Morning Special Needs Ministry
At FUMCR we want to share God's love with everyone, reaching each child in a way they can learn best. All children are welcome here. If your child has a special need, please contact Director of Children's Ministries, Cheryl Bishop, at 972.996.0121. We would like to accommodate your child in the best way possible.
• Our Sunday School Buddy Program offers a volunteer assigned to help your child while in Sunday school or in a separate classroom.
• A specific special needs Sunday school classroom for children who need a different environment than traditional Sunday school is available. Please contact Natalie Nenovich, 972.996.0121, in advance in order to ensure that a teacher will be present.
---
Children's Ministry This Week