O sing to the Lord a new song; sing to the Lord, all the earth. - Psalm 96:1
Music Makers 2019
July 15-19, 9 am - 12:30 pm (1:30 pm on Friday)
Performances July 21 at 9:45 & 11 am
Music Makers is a high energy, exciting, and special on-site, one week summer music day camp designed to provide a positive Christian musical experience for all children who are entering grades 2 - 7. The camp is an intense week of singing, dancing, acting, prop building and handbell playing, culminating in the performance of a children's musical. Come join us!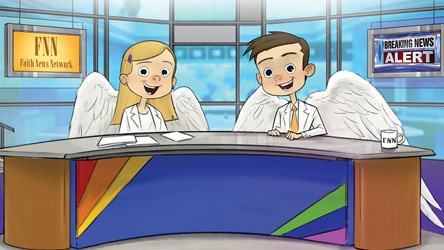 The 2019 Music Makers musical, Faith News, highlights people of great faith throughout the bible. The Faith News Network (FNN), is Heaven's number one source of news! It is a story about having faith and trusting God's promises, even as we struggle with everyday worries in our life.
Cost: $85
See photos from the 2018 production of "Life School Musical"