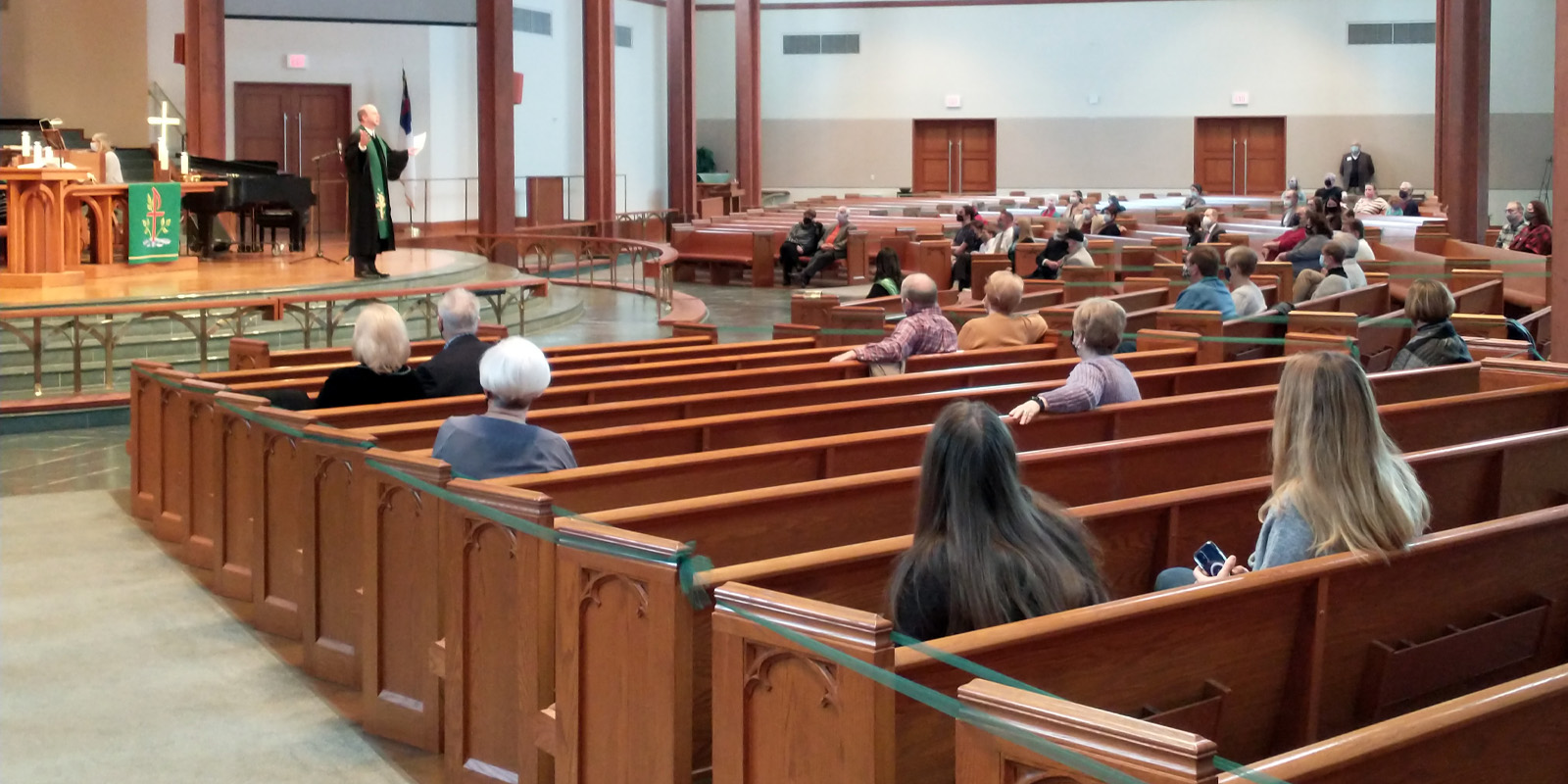 For from God and through God and for God are all things. To God be the glory forever! Amen. - Romans 11:36
We are Open for Worship
Health and safety procedures are in place. Registration is required.
• 9:45 & 11 am worship services will each accommodate up to 62 family units in the sanctuary.
SCROLL DOWN FOR REGISTRATION INFO AND LINKS.
---
Q&A
Do I really need to register for in-person, indoor services?
• Yes, please. It will help our staff prepare for each individual service and plan when additional indoor services may need to be added to the schedule.
What are the services like?
• Worship will last 30-35 minutes and include prayer, songs by a soloist or small group, and a sermon. We will not sing together.
• Offering may be given online or in baskets at the back of the worship spaces.
• Communion will be served on the first Sunday of each month using individually wrapped, pre-packaged elements.
Indoor classes, informal gatherings, and childcare will not take place. Children are always welcome in worship. Initially Children's Time will not be part of indoor services.
What precautions are being taken?
• Physical distancing (6') between family units will be required while on church property.
• Face masks will be required of all worshipers, 3 and older, that cover both nose and mouth from the time you are approaching other worshipers entering the building until the time you have exited the building and distanced from other worshipers.
• Hand sanitizer will be available at all entrances.
• Services will be intentionally touch-free (no hugs or handshakes, no bulletins or children's worship bags, no passing of offering plates, no items in the pew/chair backs). Links to check in, give online, submit a prayer request, and view the traditional worship bulletin will be available on our mobile app and at fumcr.com/links.
• Seating will be physically distanced. Some rows will be blocked. Ushers will show worshipers to their seats. Sanctuary pews will be marked with available seats. Worshipers in the Worship & Arts Center will leave 3 seats vacant between families.
• Occupied spaces will be disinfected after each service.
• Changes you might notice: no shuttle service, rows blocked in the Sanctuary and Worship & Arts Center, no "pray-ground" in the Worship & Arts Center, no Café service
I'm ready to come! What now?
• RSVP each week by Saturday. Worshipers will choose associated parking area, entrance door, and seating area by color according to the map below when making their reservation. Accessible parking areas are indicated by black stars.
• Please self-screen at home before you come to church. If you have a temperature over 100.4 degrees, a cough or sore throat, respiratory illness, difficulty breathing, new loss of taste or smell, or contact with anyone confirmed to have COVID-19 in the past 14 days, please stay home and worship with us online.
• Select doors will open 20 minutes prior to each service. You are welcome to arrive anytime in that 20-minute window and be ushered to your seat.
• Please enter and exit through the same color-designated door that matches your parking and seating areas. Colored flags will mark parking areas and entrances.
• Restrooms will be available for emergencies and will be stocked with wipes to clean touched surfaces after use.
• Water fountains will not be available. Please do not bring food or drinks with you unless medically necessary.
Registration Links
Choose your colored parking/entrance/seating area, then click on the service you wish to attend to see the registration links (available Mon-Sat).
---
I'm not ready to come to indoor, in-person services. What about me?
• Our online traditional and modern services will continue! Watch them as scheduled at 9:45 and 11 am (fumcr.com/live or Facebook) or on demand anytime (youtube.com/fumcr).
• Virtual Learning Communities and small groups will continue this fall.
Now that worship is in-person again, is the building open and is the staff back in the office?
• No. Groups will continue to meet virtually due to the very limited number of rooms large enough to accommodate physical distancing. Staff members will continue to be available by appointment only.