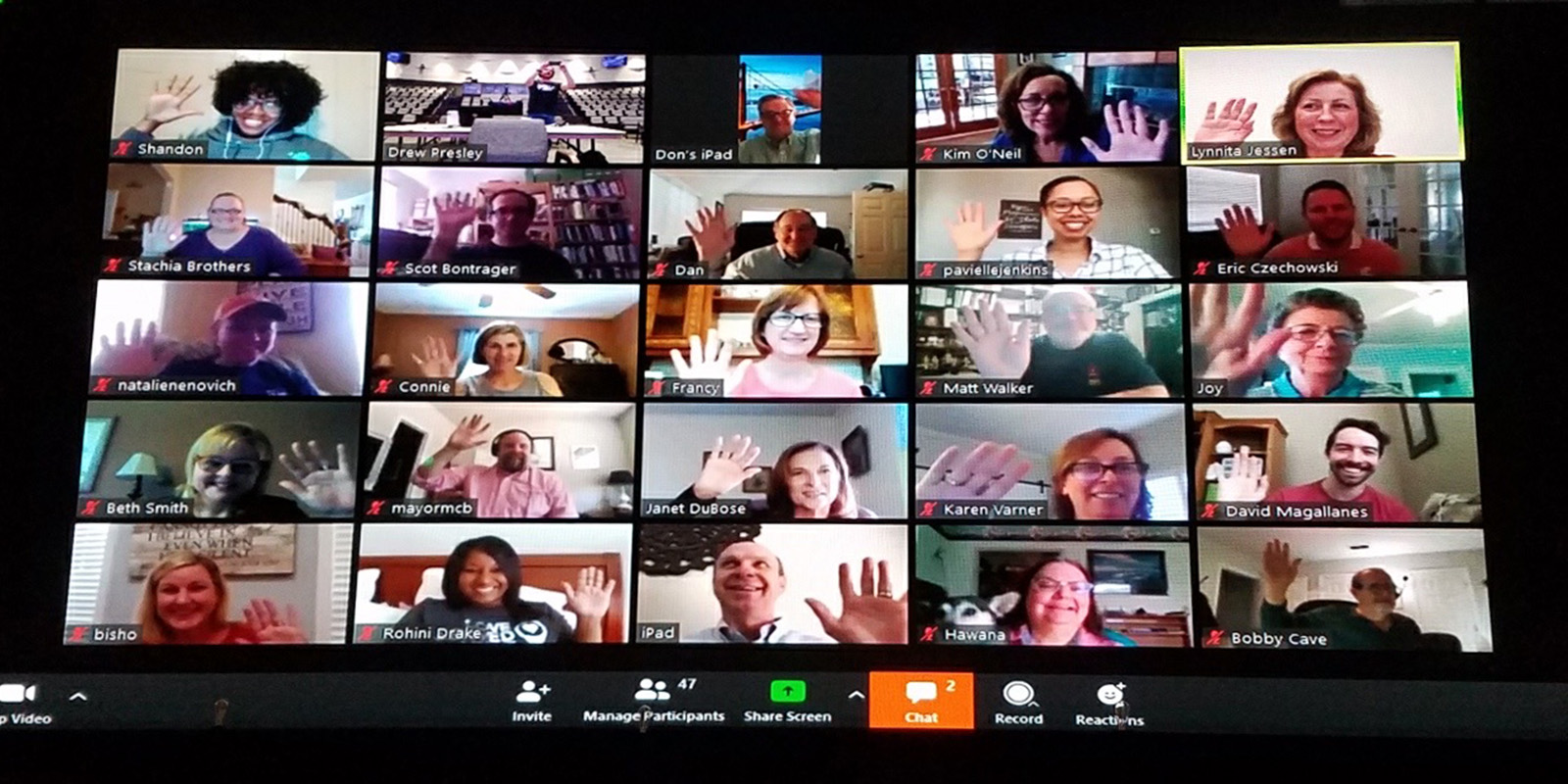 Social distance doesn't mean social isolation.
FUMCR is offering ways to worship and connect virtually plus opportunities to safely serve our community.
Hear from us directly by subscribing to our emails at fumcr.com/subscribe.
Resuming In-person Gatherings
We will open our building for in-person worship services and small groups when it is safe to do so as determined by our bishop and our leadership team.
The building being closed has not stopped ministry from happening. On the contrary, staff and lay leaders are dreaming and implementing innovative ministries of caring, learning, and serving. If you would like assistance getting plugged in somewhere, please reach out Rohini Drake, Engagement Coordinator, at rdrake@fumcr.com or 972.996.0157.
Our logistics team is working on details surrounding reopening safely while maintaining our FUMCR spirit of warm welcomes and friendly smiles.
---
Worship Online
SUNDAYS at 9:45 am (traditional) and 11 am (modern)
fumcr.com/live or facebook.com/FUMCRichardson or youtube.com/fumcr
ON DEMAND
youtube.com/fumcr
Be assured all health and safety precautions are taken.
---
Keep Learning
ADULTS
• All-Church Study of Love Does by Bob Goff, Wednesdays, June 3 - July 1 • fumcr.com/learn
• Methodist Identity in the 21st Century, Tuesdays, June 2-23 • fumcr.com/learn
• "Into the Unknown" sermon series study of Acts, Thursdays, June 4 - July 23 • fumcr.com/learn
• Use weekly Scripture/Sermon Discussion Questions questions at home and with your class/group.
• For those looking for lesson resources, check out amplifymedia.com/faq and sharechurch.com.
• Join FUMCR Recipe Share Facebook Group
CHILDREN
• Check the Family Camp folder each week for a scavenger hunt and a new set of adventures to go along with the scripture shared in worship. We hope the suggestions will inspire both family togetherness and kids' independence, depending on what is needed when!
• Join the Facebook group, FUMCR Children's Ministry
• For children in choir, join Kim O'Neil in the Facebook group, FUMCR Children's Choir.
YOUTH
• We're continuing much of our programming and adding some new opportunities to connect, all online via Zoom. You can find the details HERE.
---
We Care
Strength for Today: Focusing on Mental Wellness During a Pandemic
Wed, May 27, 7-9 pm, via Zoom
What are some ways to have a faith-filled response to our global pandemic? Why do I feel so worn down even though I've been praying and doing devotionals? Where is hope, and will I see it when it comes?
We invite you to wrestle with these questions and more as Dr. Terry Parsons joins Drs. April Johnson Bristow and Clayton Oliphint in a conversation about living as a person of faith during difficult times. The forum will address why our church talks about mental health, using a Wesleyan framework to develop a response, the psychology of living in a pandemic, and hope for tomorrow, in addition to questions submitted by participants.
LInk to Zoom meeting and to submit questions will be provided at registration.
On-going Opportunities for Care
• Pray for the cares of our congregation Tuesdays, 12-12:30 pm at zoom.us/j/504819061
• Submit a prayer request at fumcr.com/pray.
• Tell us about a hospitalization at fumcr.com/hospitalreport.
• Contact our Caring Ministry staff at .
• Stephen Ministers are available to listen confidentiality and impartially as you navigate a difficult situation. Learn more at fumcr.com/StephenMinistry. Email or leave a brief message at 972.235.8385 to get started.
• If the status of your job has been affected, the Employment Transition Ministry and Career Jump-Start networking groups are available to help. Contact Bob Sage by email at sagerl@swbell.net or by text to 972.345.7608 to connect with one or both groups. fumcr.com/career
---
Please reach out to Rohini Drake, Engagement Coordinator, at rdrake@fumcr.com if you can offer help or if you are in need of help in the coming weeks.
---
Keep Serving
FACE MASKS & HEAD BANDS
• Methodist Richardson Medical Center is accepting donations of homemade face masks and headbands with large buttons for hooking masks with ear loops. Learn More
NETWORK OF COMMUNITY MINISTRIES
• Take donations to 741 S Sherman St, Richardson 75081 during business hours, Mon-Thur 9am-5:30 pm and Fri 9-11:30 am. Items needed most are listed at thenetwork.org.
• Monetary donations are being accepted at thenetwork.org/donate-today and through FUMCR's online giving.
• Sign up to help in the food pantry / warehouse at bit.ly/NetworkVolunteering.
• Sign up to deliver items to local senior adults at bit.ly/seniordelivery.
CAFE MOMENTUM & RUTHIE'S FOOD TRUCKS
Funds are being collected to help them implement their plans to provide 1000 meals each week for food-insecure students and their families. Stand Together will match dollar for dollar donations up to $1000 at cafemomentum.org/momentum-eats.
---
Give
---
Share your experiences
Whether it's watching online, serving others, or connecting in new ways, your experiences may inspire others, and we want to know about them!
• Upload your photos to fumcr.com/ShowUs.
• Share your story with Rohini Drake online at fumcr.com/mystory or via email to rdrake@fumcr.com.
Follow Us on Facebook